"They craft fragrances that are alive and vibrant, and they are intimately familiar with every aspect of their creation process, from seed to bloom. Their fragrances are all-natural, never overpowering or cloying on the skin, and instead reveal the essence of our true selves."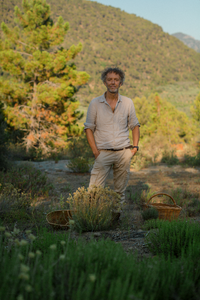 Eric Roux Reiffsteck, paysan parfumeur
As a child, I was passionate about animal behavior. I observed birds, fascinated by the colors of their plumage and their freedom to fly. I learned at an incredible pace about all species of animals and how to recognize them. I spent my time exploring nature in forests and swamps.
Then, in my adult life, I lost touch with nature by living in big cities, first Paris and then New York City. One day, in a radical move, I changed my life from the film industry to farming, acquiring a property with over 800 hundred-year-old olive trees.
I found a form of meditation in contemplating plants. Living in the middle of nature, I had a front-row seat and could attentively observe their development day by day. I was transported by the beauty of the arrangements that gave shape to their branches, leaves, and flowers. From these observations, the first fragrances emerged simultaneously.
The fragrant scents of the plants surrounding me, such as pine, lavender, thyme, juniper, pistachio, and others, unquestionably opened a channel of communication between them and my inner being.
After completing perfumery training in Grasse, I worked on my own plant extractions, from those I cultivated or harvested in the wild in the surrounding mountains. Passionate about alchemy, I studied under two teachers, Patrick Rivière and Patrick Burensteinas. With the help of my mentor, Caroline Albert, co-founder of Gattilier, I developed my first mother tinctures (maceration in alcohol), gemmotherapy with buds, and also distillation in a copper still or with a glass Soxhlet extractor.
Little by little, I began to compose and assemble these different extractions to rediscover and share with my surroundings the fragrances that had brought me back to wonder, emotional well-being, and inner peace.
+ Léa Steuperaert, co-creator
I am originally from the South of France, born in Grasse, and grew up on the surrounding hills of the Tanneron Massif, surrounded by the beauty of the mountains, the intense blue of the Mediterranean Sea, and immersed in the scents of the pine trees.
Yoga changed my life. I was 22 when I went to Bali to discover its philosophy. I left my volleyball career and my business studies to follow my dream of living a life filled with beauty, passion, and love for the Earth and its kingdoms. Movement, reconnection to nature, to my mind, and to my body were like medicines.
I deeply believe that the relationship we have with ourselves, the kindness and love we show ourselves, has an impact on our relationship with the world. For me, this is the starting point for all personal and collective change.
For several years now, I have dedicated my time to studying Western ancestral medicine, reflecting on the complexity of the world, and drawing inspiration from the nature that surrounds me.
For me, being a Peasant Perfumer is a bridge of reconnection between nature and the modern world. An immersive and poetic experience, through fragrant scents, that will guide us towards a profound discovery and healing of our being.